string(91) "https://stoa169.com/wp-content/uploads/2021/01/Judith-Portrait-_-Yellow-Nails-_-Kasmin.jpeg"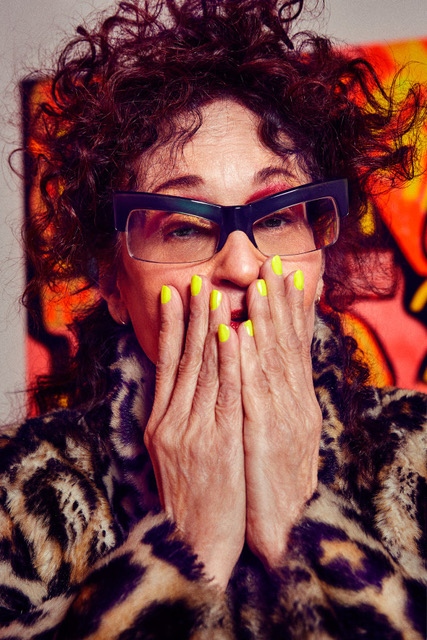 Judith Bernstein
* 1942 in Newark, New Jersey, USA ; lives in New York
For over fifty years, Judith Bernstein (b. 1942, Newark, NJ) has developed a reputation as one of her generation's most seminal and provocative artists, connecting the political and sexual. Bernstein's expressive drawings and paintings boldly critique militarism and machismo in a manner that is at once humorous and threatening. She received her MFA from Yale University in 1967. Recent solo exhibitions include HOT HANDS at The Box, LA (2020); Money Shot at Kasmin Gallery, NY (2018); Dicks of Death at Mary Boone Gallery, NY (2016); Judith Bernstein Rising at Kunsthall Stavanger, Norway (2016); Birth of the Universe at Gavin Brown's enterprise, NY (2014); Rising at Studio Voltaire, London (2014); Judith Bernstein at Karma International, Zurich (2014); Birth of the Universe: 18 New Paintings at The Box (2013); and Judith Bernstein: HARD at the New Museum, NY (2012). She will present a new solo exhibition at Karma International, Zurich, in 2021. Recent group exhibitions include Seven Stations: Selections from MOCA's Collection at Museum of Contemporary Art, Los Angeles, CA (2020); Artists Respond: American Art and the Vietnam War at The Smithsonian American Art Museum, Washington D.C. (2019); United by AIDS at Migros Museum, Zurich (2019); Masculinity at Bonner Kunstverein, Bonn, Germany (2019); We need to talk… at Petzel Gallery, NY (2017); Coming to Power: 25 Years of Sexually X-Plicit Art By Women at David Zwirner, NY (2016); From the Collection, Kunsthaus Zurich, Zurich (2016); Human Interest: Portraits from the Whitney's Collection(2016) and America Is Hard To See (2015) at the Whitney Museum of American Art, NY; Keep Your Timber Limber at ICA, London (2013); and The Historical Box at Hauser and Wirth, London (2011). Bernstein has work in the permanent collections of the Museum of Modern Art, NY; the Whitney Museum of American Art; The Museum of Contemporary Art, Los Angeles; the Brooklyn Museum, NY; Jewish Museum, NY; Kunsthaus Zurich, Switzerland; Migros Museum, Zurich, Switzerland; Carnegie Museum of Art, Pittsburgh; Deste Foundation, Athens, Greece; Sammlung Verbund, Vienna; Yale University Art Gallery, New Haven, CT; Neuberger Museum, New York; and Hall Art Foundation, Reading, Vermont. She was the recipient of a John Simon Guggenheim Memorial Foundation Fine Arts Fellowship in 2016. With kind support by Karma International, The Box and Kasmin Gallery. Foto © Judith Bernstein.